Location: The Caribbean mating site of the Humpback whales.
Boat: living on a 25 passenger live aboard boat.
Date: February, 2013
Who: Joan Ocean with Lisa Denning and our friends.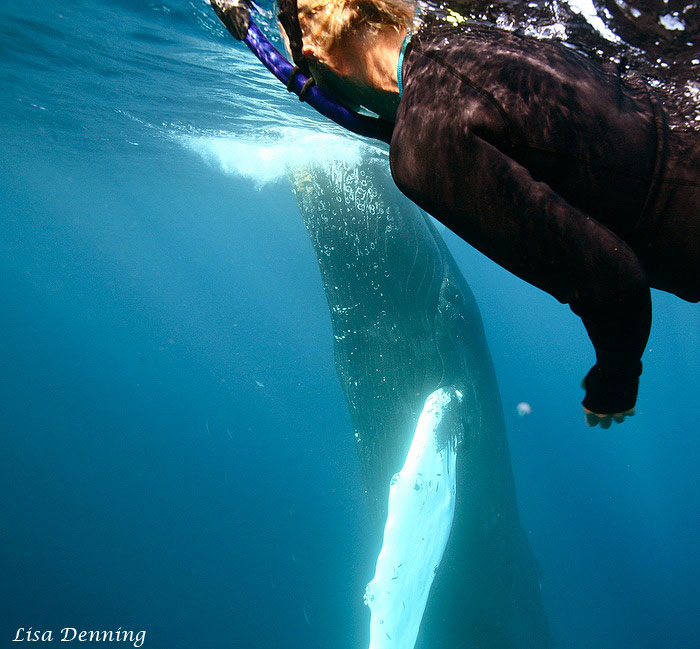 Whale communication
February 4, 2013

This morning we are all sleeping soundly in our comfortable beds when we are suddenly awakened by a loud urgent knocking on our bedroom door and the shouting of words in Spanish: "tiburón ballena! tiburón ballena !"

It is still dark, there is the sound of running feet in the hallway. What is going on?

Instantly awake, we leap out of bed, not knowing what the problem is. It is 4:30 AM. Our sleepy group in their pajamas is in the hall, looking around for an answer. Why would the crew wake us, when it is still the dark of night? We run up to the deck and look into the water, having recognized only one word in the excited voices of the crew: "Ballena". We know this means Whale.

And there he is, at the back of the boat in the floodlights of our ship, a Whale Shark! Like a phantom in the black quiet waters, we see all of his white spots reflected brightly in the light. He is swimming as close to our back deck as he can possibly get.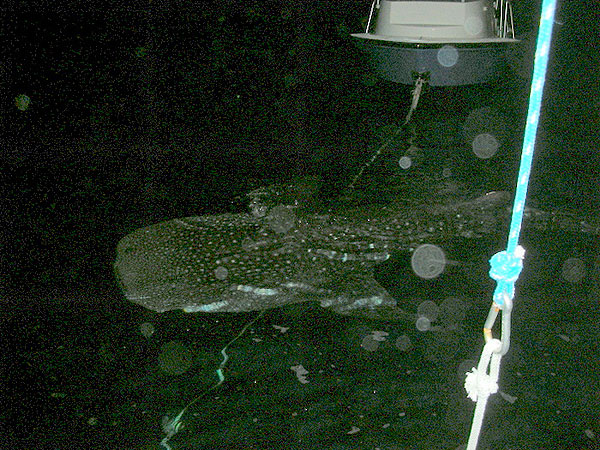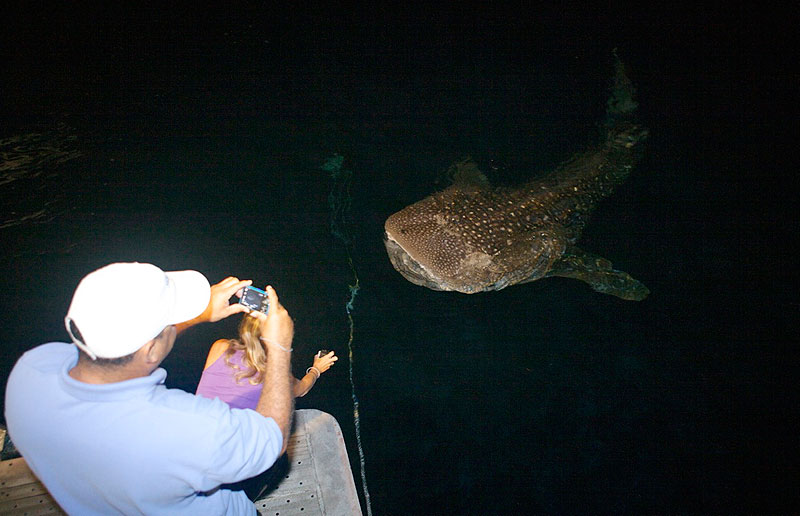 Why is he here? Where did he come from? Did he follow the ship from Belize where there are many whale sharks? We are completely excited and in awe. We watch him circling at the surface, mouth agape, feeding on the plankton drawn to the light. He seems happy to have our company, coming so close to the dive platform at the stern that we could reach out to touch him. We don't do that. He doesn't swim away; he goes back and forth among the lines stretching from the back deck to the tenders that are secured there. Seemingly unconcerned about the ropes hanging in the water, he gives a sudden flick of his large tail when it gets temporarily looped around one of the lines. He is fine. The floating ropes do not bother him. With his mouth open, he is looking for plankton to eat.



No one goes back to bed. We are all thrilled with this unexpected visit from this gentle shark, the largest fish in the ocean. We silently watch him swim back and forth in the Light admiring his beauty, astonished by his close proximity, his giant mouth and his unique patterns of whimsical polka dots.



This whale shark continues to visit our boat every day for the next three days. It becomes common place to swim with him each day after our whale encounters. He is always there waiting for us. He is named Scooby after the night watchman, the first person to see him. As our Captain Gene mentions, "He is like a big, friendly, spotted dog!" Our hearts overflow with love for him as we enjoy his close company every night when the spotlights come on and every afternoon at mid day when we return to the big ship for lunch. We swim freely with him then as well, inviting other small boats to come over and see this treasure of the sea that has never been seen here before in all of our 16 years coming here.
For those who have swum with whale sharks before, they have a startling and endearing behavior of coming right towards you. Over and over again as we are courteous and trying to give him space to maneuver, he turns toward us instead of towards the open water. It is a bit unnerving to see him moving slowly at you, giant mouth open, while you move to the right to give him room, and he then turns in that same direction so you are directly in front of him again. No matter how many times I turn away, he follows me. At one point, not able to avoid his close and intimate attention on me, my alternative was to dive down, being careful not to kick his mouth in the effort, and go under him. This was truly hilarious and a behavior that everyone in our group experienced with this young male whale shark. Scooby we love you!



MORE PHOTOS:









_____________________________________________________________
Mom and Baby Whales
February 5, 2013

This afternoon we can see a baby whale breaching in the distance. As we motor toward the mother and baby whale, we begin to count the number of times the baby is breaching. He is enjoying himself, experimenting with different ways to leap out of the water and look at the ocean around him. We are enamored with his energy and enthusiasm, while his Mom rests below in the shallow waters.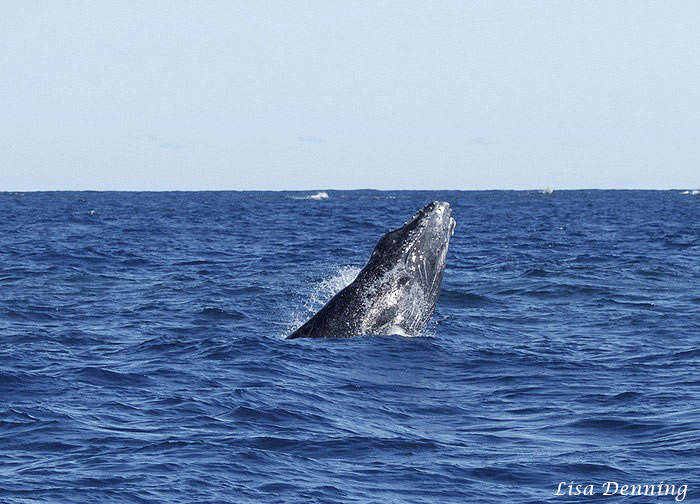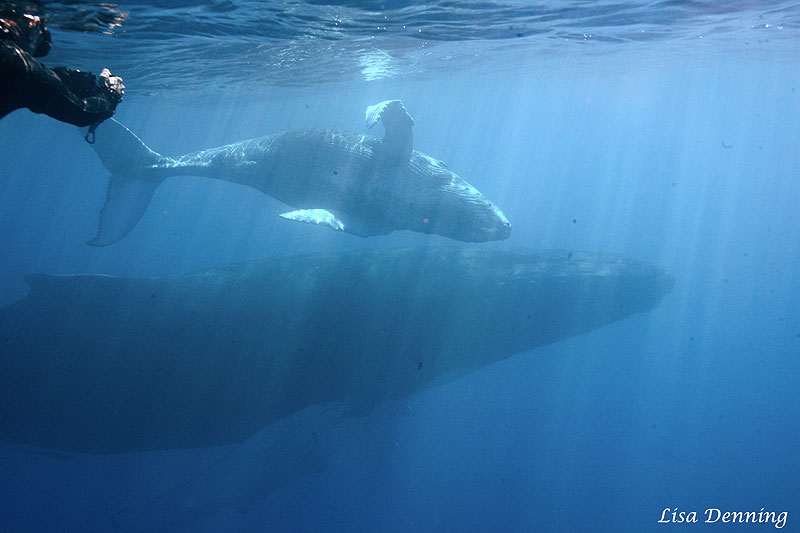 We are able to enter the water numerous times to observe the resting mother whale and be near her very active baby. As we float together, as swimmers we hold hands and form what we call: The Line of Power. We have found that when people form a line in the water and all stay together on one side of the whales, then the whales are quite comfortable with our presence and they remain near us for a long time, even for hours. When the adult whale is at ease with our presence, she allows the baby to stay with us. This often depends on the whale mother's familiarity with snorkelers, the age and experience of the new mother whale and the behavior of the swimmers who are meeting with the whales. Many of these female whales were born here themselves and have spent every winter season birthing and mating here, sharing the water with gentle people.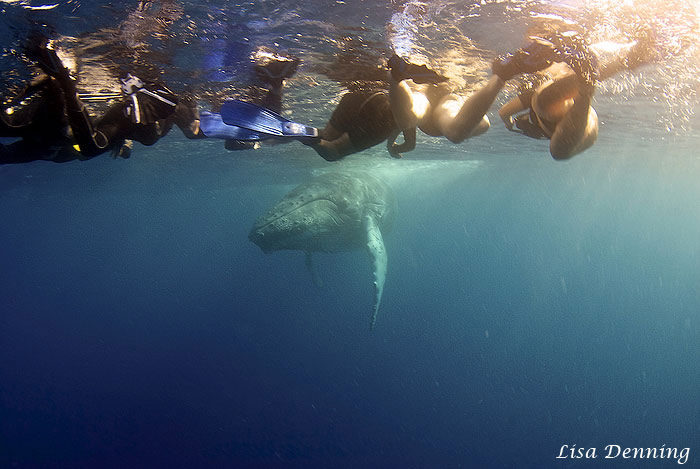 Today the mother seems very content to have us there to entertain her little one and so the baby whale freely swims along our line of people making eye contact with each one of us.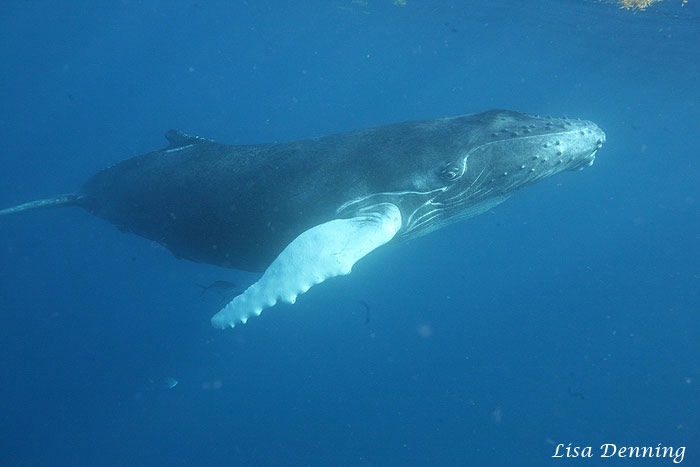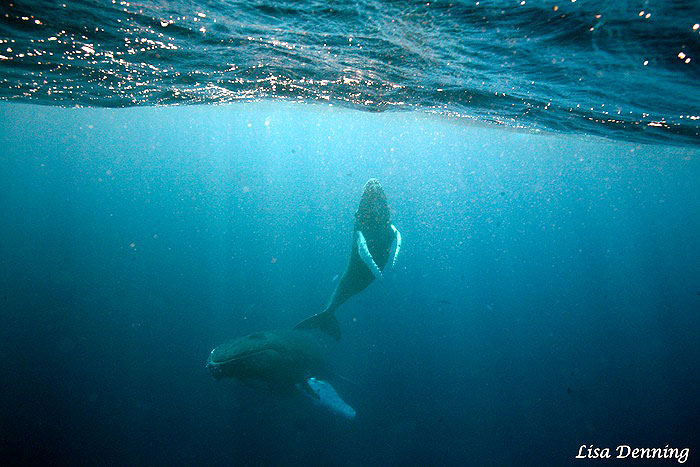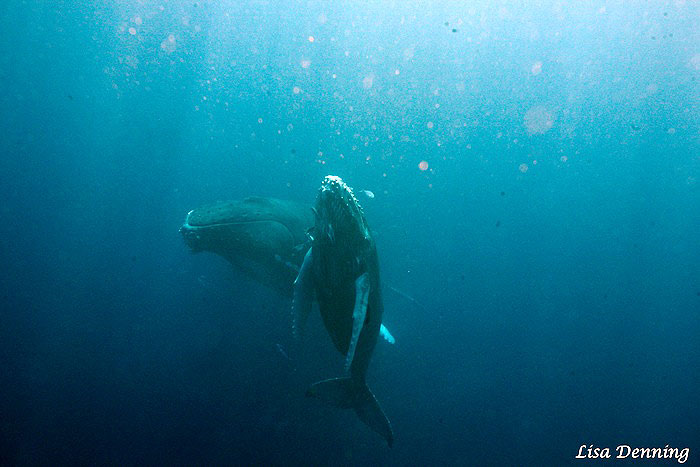 He also demonstrates his agility in the water, rolling over, showing us his pleated tummy and the little cleaner fish who swim round his head, feeding from the left-over milk on his mouth after nursing. This milk is very rich and full of nutrients. As the baby nuzzles the underside of the mother whale, the milk squirts out to him. One time when the baby nuzzled, he missed catching the milk and it floated into the sea. Here are pictures of it as it dispersed in the salt water.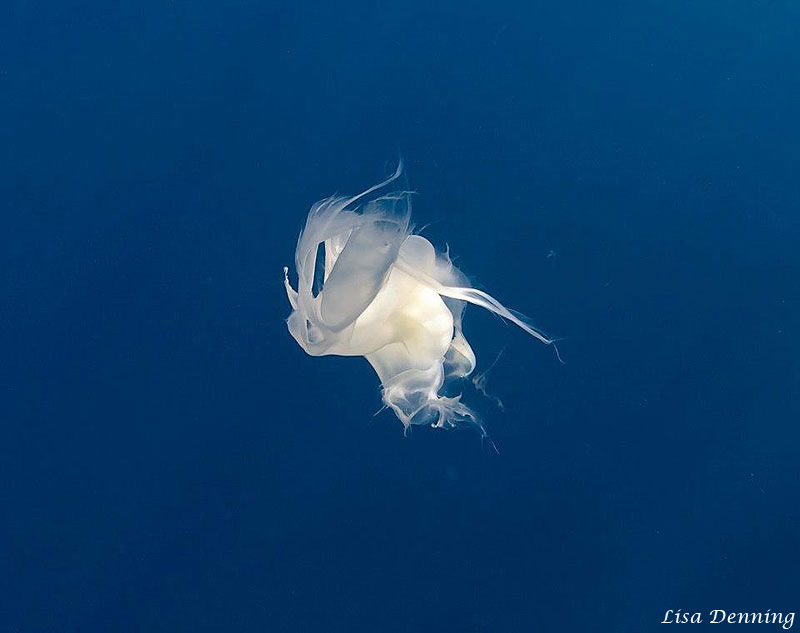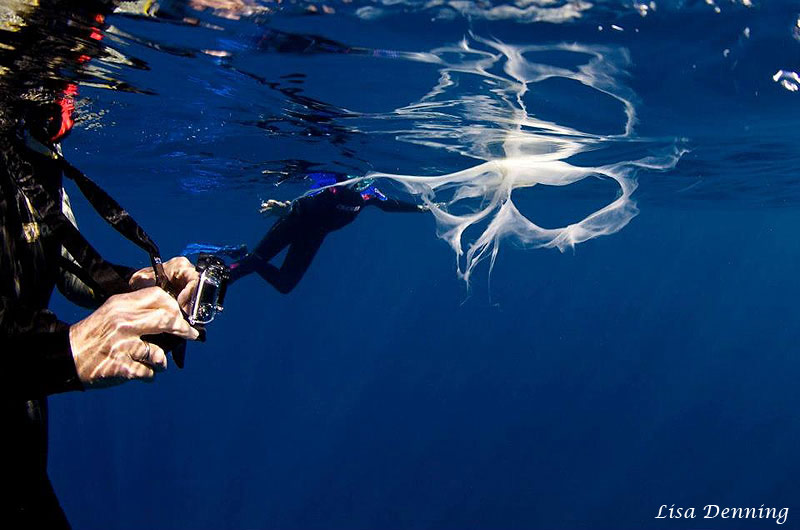 Meanwhile the baby continued to play and leap out of the water. When he finally slowed down, began to rest and stopped breaching, we had counted 92 times he had breached within a 2 hour afternoon! Our cameras captured many of his athletic behaviors as he jumped-for-joy, fascinated by the big wide world he could see above the ocean's surface.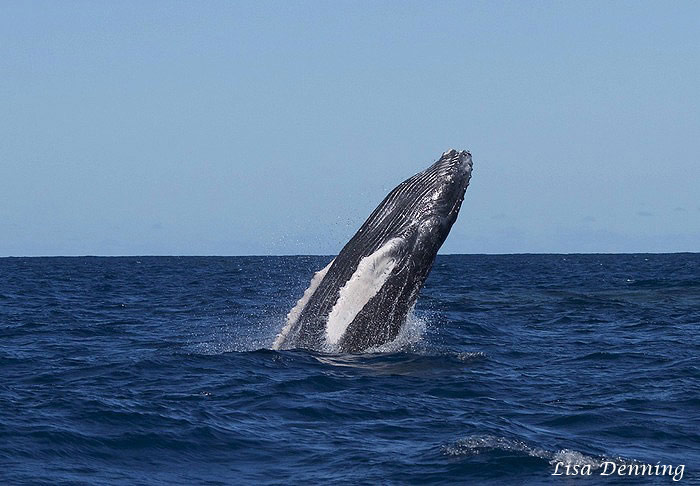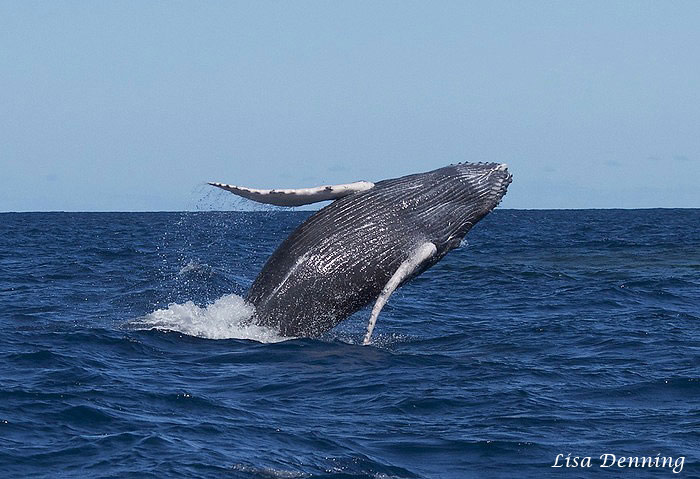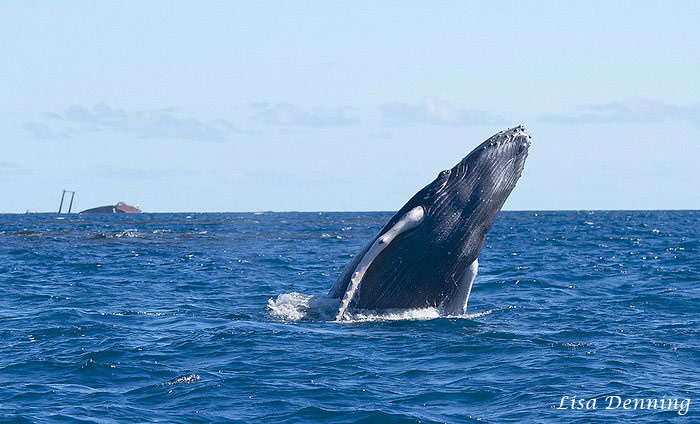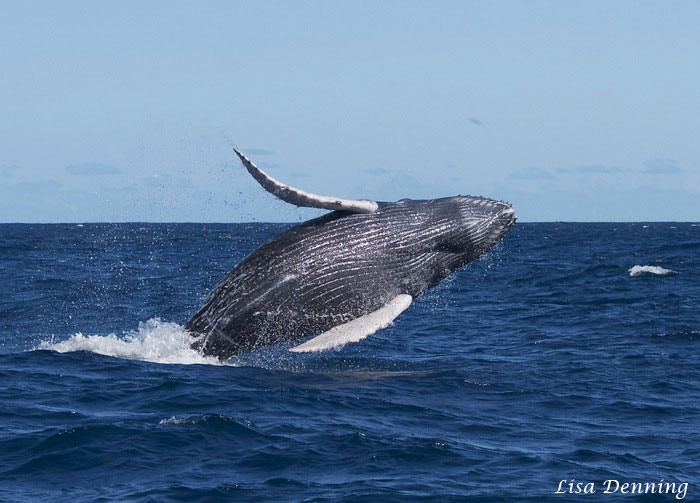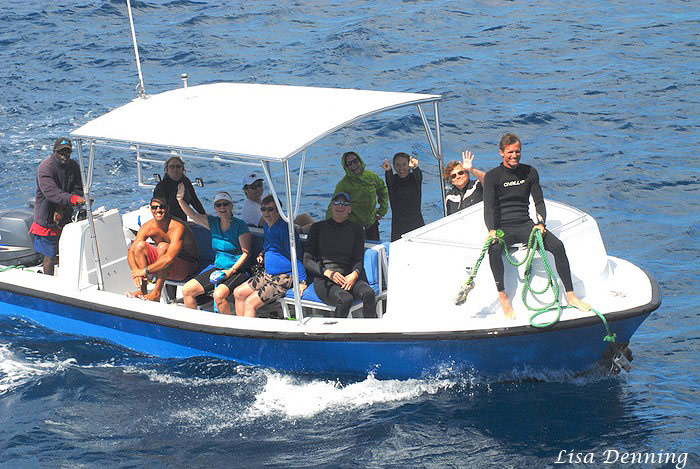 Back in the boat, Captain Gene mentioned he saw a good I.D. on the mother whale. There were marks and cuts on her pec fin that were old wounds from a rope entanglement. We all saw the wounds clearly as she rested below us. We will recognize her if we see her again.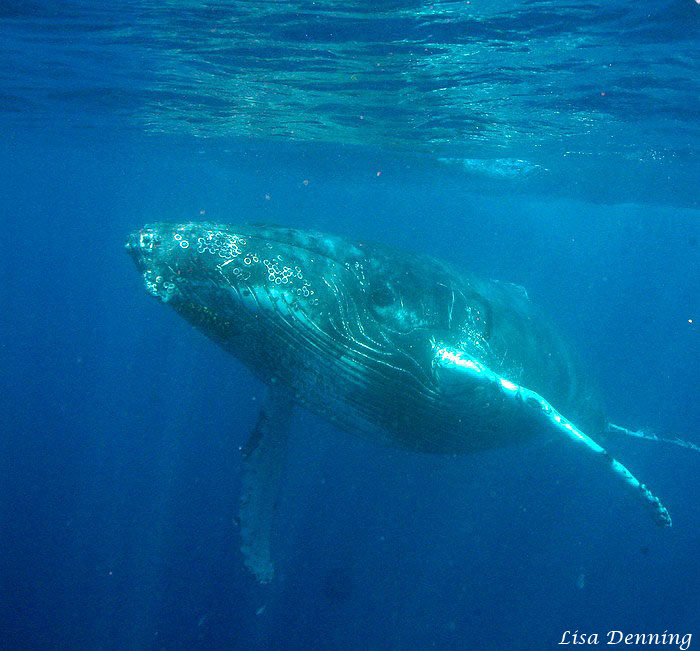 ___________________________________________________
Wednesday, February 6, 2013

This morning we saw 5 single adult whales. None stopped to rest or play. Then we saw the Mom and Junior baby from yesterday and entered the water quietly, approaching them. Mom remained sleeping or resting occasionally opening one eye to look at us. Junior at her side was also sleepy and at rest today. We floated silently above them and watched them for a long time, the baby coming up to visit with us every five or six minutes.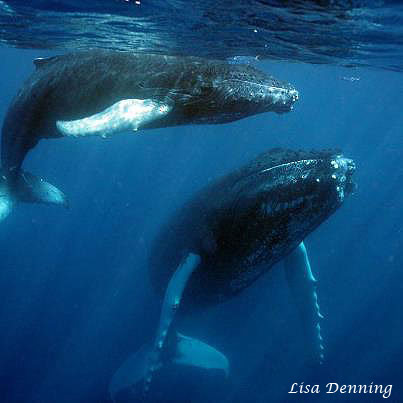 Then Mom imperceptively began to move forward very slowly permitting us to swim alongside her and Junior. We noticed that Mom positioned Junior on our side of her so he can have a good look at us. This seemed to be where he wanted to be.
After a nice leisurely swim together, she eventually increased her speed, out swimming us, and we stopped, watching the last views of their departing flukes.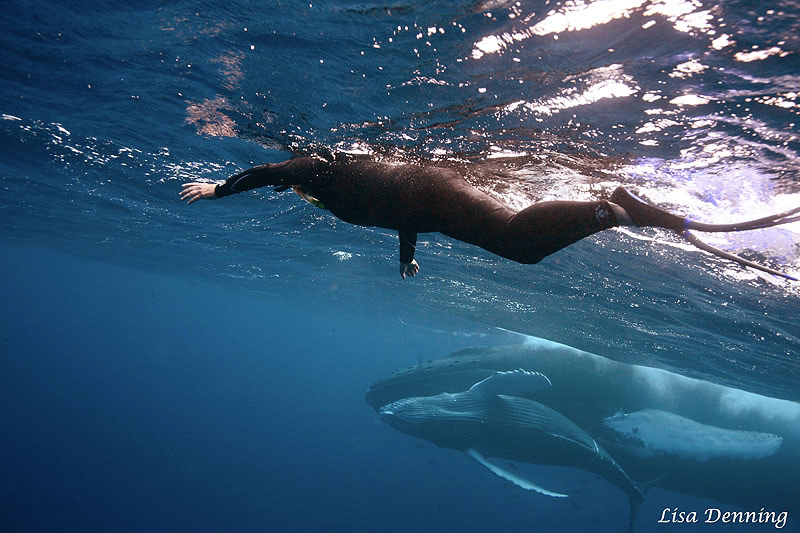 We are filled with love and joy to have experienced this beautiful vision of these whales. Thanking them profusely for our time together, we climb back onto the boat.

Now at the end of the day, heading back to the large live aboard ship, we find our friend the Whale Shark is still in residence around our ship. And we enjoy another swim with him. He is a young one, only 20 feet long to the tip of his tail. We are in awe of him and feel honored to have this in-water experience with such a beautiful creature.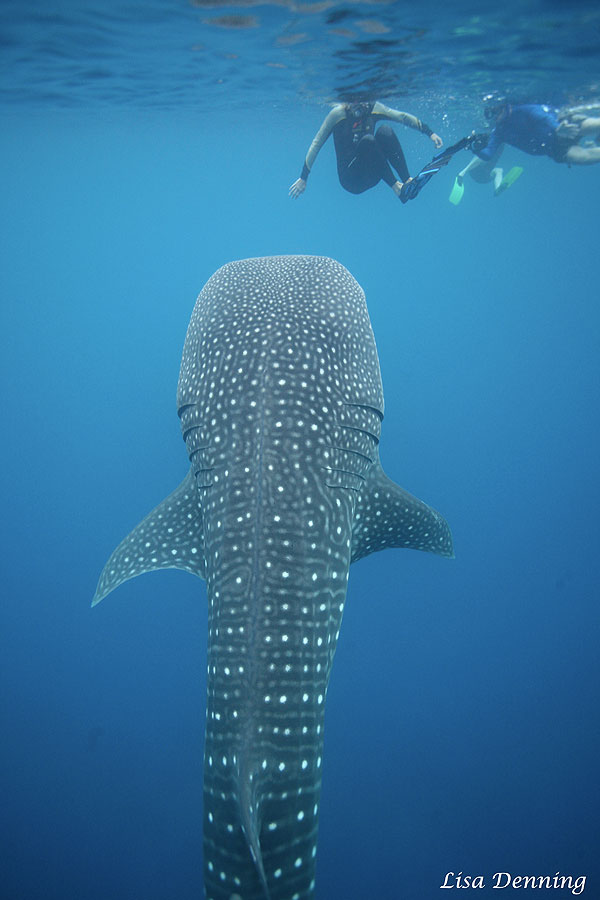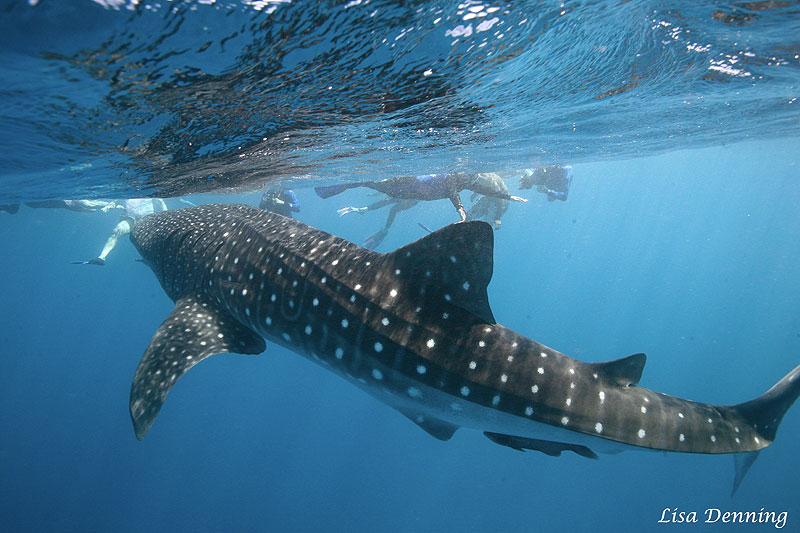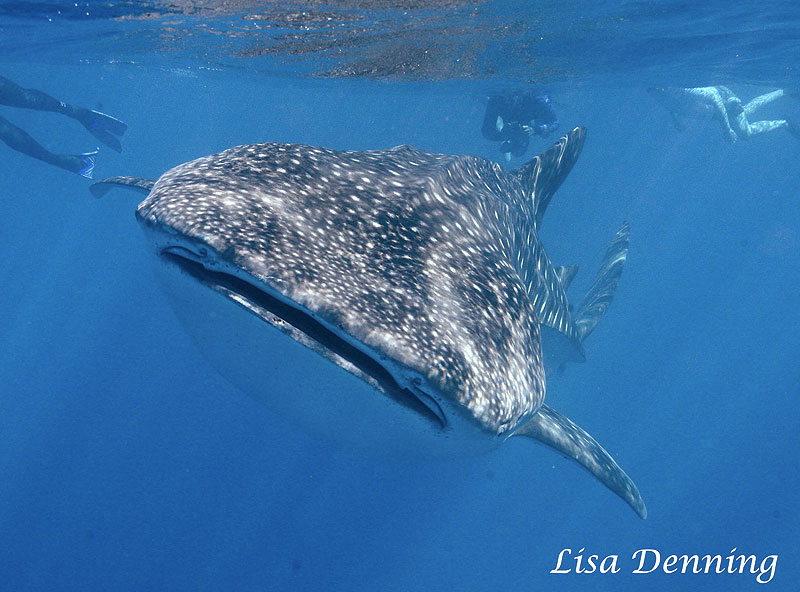 ________________________________________________
Freckles the Very Curious Whale
2/12/13

Lisa and I see the barely visible dorsal and back of a whale who is familiar to us. We recognize his pale, freckled back, a smallish whale. Last week he was swimming with a large female who we thought could be his mother. Perhaps he is a yearling, having been born last season in the Caribbean, and still traveling with his mother this year. We remembered that last week, another large escort whale kept trying to stay with them until "Mom" performed a giant, resounding peduncle slash which appeared to warn the escort away. We watched the accompanying whale move away, seemingly in response to her behavior .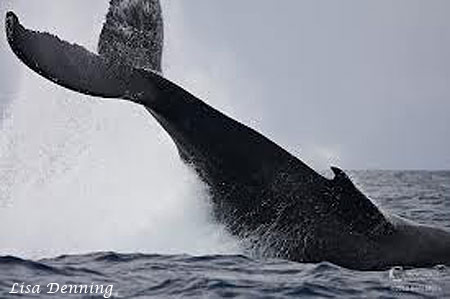 Today this whale was alone and we recognized him. Captain Amanda later suggested that he may be an older male who can no longer compete with the adult males because of his age; his breath cycle is shorter than theirs. And so he swims alone. This sounded correct as well. We noticed that he breathes more frequently than most adult whales do.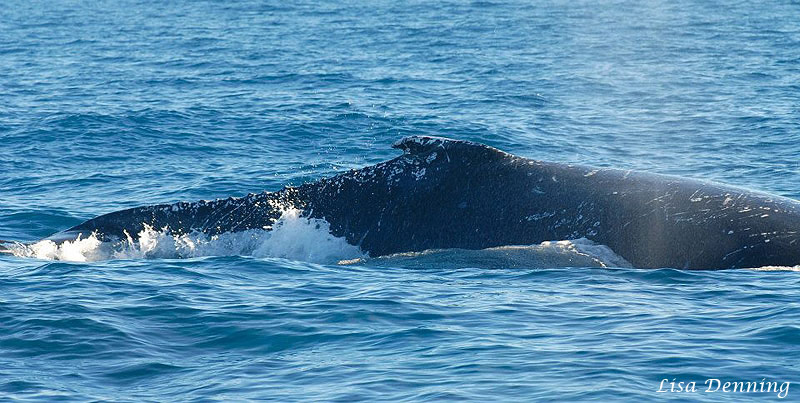 As we slowly approached him by boat, he was quietly logging on the surface. He did not dive or swim away. We waited, letting him get used to our zodiac. He stirred, turned and to our delight, came right towards us. Moving slowly and purposely, he dove beneath our boat.

He then began to circle our boat. A most amazing behavior. We watched him swimming around us for a while, choosing to stay close to the zodiac on the surface and when he dove below, we decided to slip into the water. The decision was to remain next to the zodiac holding on to its ropes along its sides, because we were curious about the whale's unusual behavior and we didn't want to interrupt it…… reasoning "since this whale is showing interest in our orange zodiac, we will stay by the zodiac and allow the whale to keep circling." Sure enough, he suddenly surfaced nearby, gave a blow and again floated over to the zodiac. However, now we were dangling from it and there was some fast beating of our hearts as he deliberately approached us.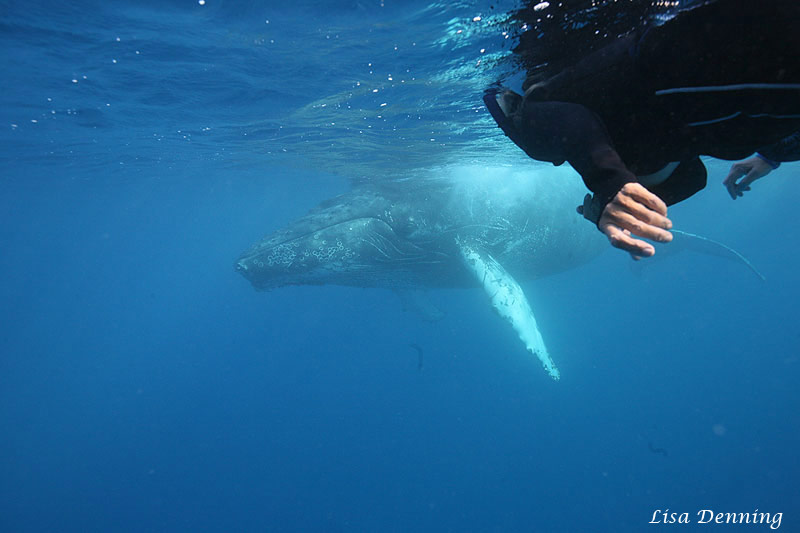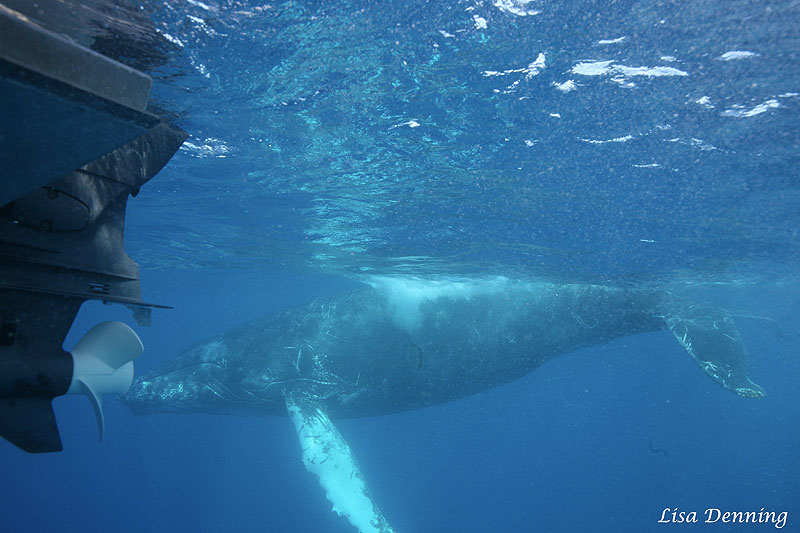 Then before touching us, he turned toward our stern and stopped, seeming to examine our unmoving propeller with great interest. He then continued to the opposite side of the zodiac and headed straight for the people dangling there. After making eye contact with them, he dove and then came back to the surface, to blow and swim toward those people again. Everyone held on to the boat as agreed, and from my side, looking under the boat I could see many dangling legs, kicking among themselves with nowhere to go. I could not help but laugh. The whale seemed to be playing with us, fully aware that he was causing a ripple of sensation among the swimmers.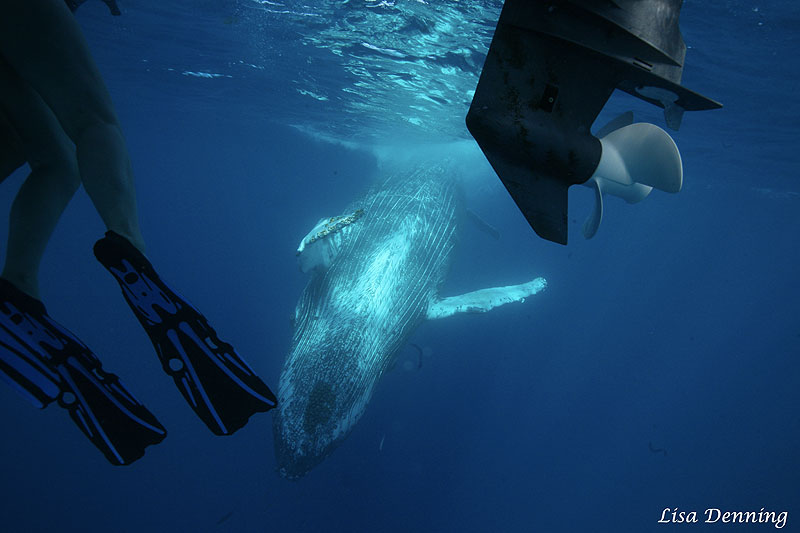 All the swimmers with cameras had made their way over to the starboard side of the boat, hand over hand hanging on the rope, to be closer to the whale. Only Lisa and I remained on the Port side, in the water.

I could hear Captain James speaking on our boat radio to our other zodiac located elsewhere in the sanctuary, and saying, "The whale is trying to make love to my boat!"

Lisa was doing her best to film the whale underneath the boat with the people. The water was very choppy as we held onto the rope, knocking us back and forth against the soft pontoon of the boat. With Lisa's free hand she was holding her heavy, wildly bouncing camera and trying to keep it steady, single-handedly.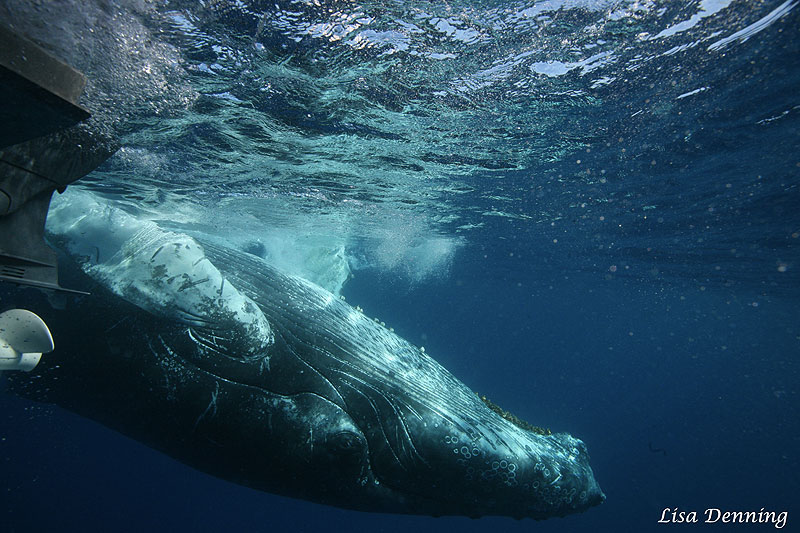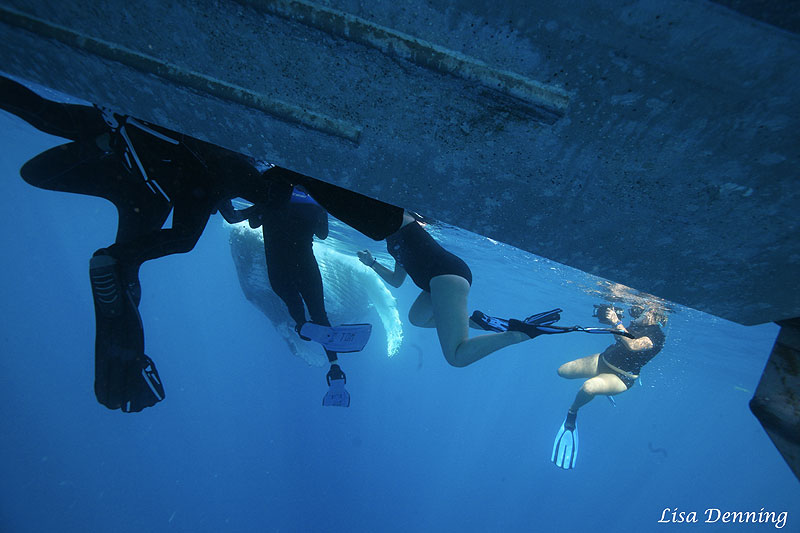 We were both keeping our eyes on that whale! After a close approach to the swimmers again, he spouted and turned to the bow of the boat. Lisa and I knew he was coming back to us! Trusting the heart and mind of these gentle Humpback whales , we had no thought of leaving the water. This was wonderful!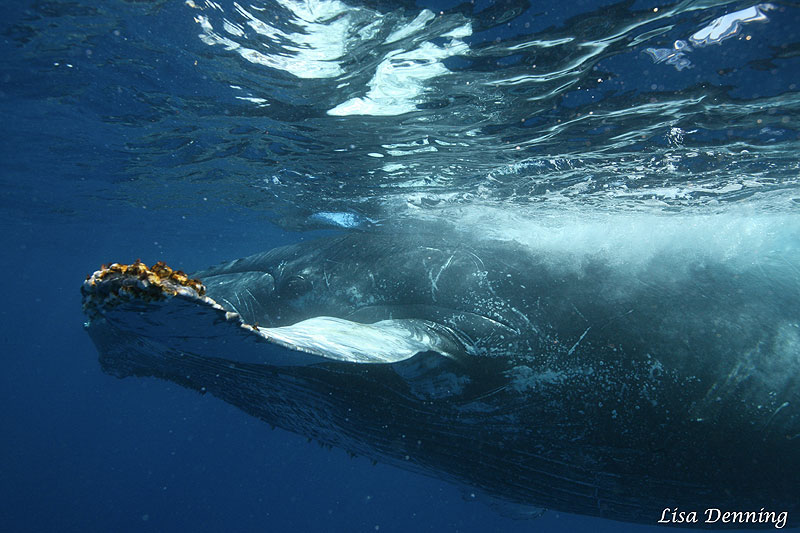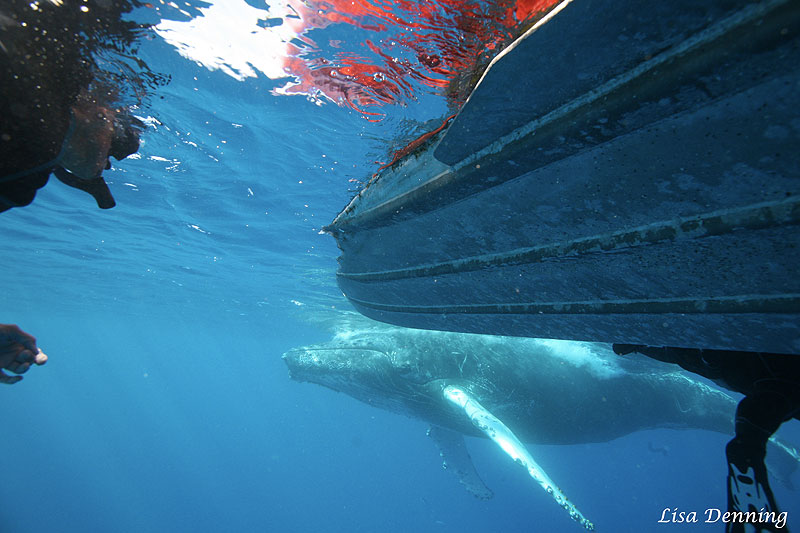 I was watching his left eye as he approached the bow, Freckles dipped down only a little and his back lifted the front of the zodiac, surprising the captain where he stood at the helm.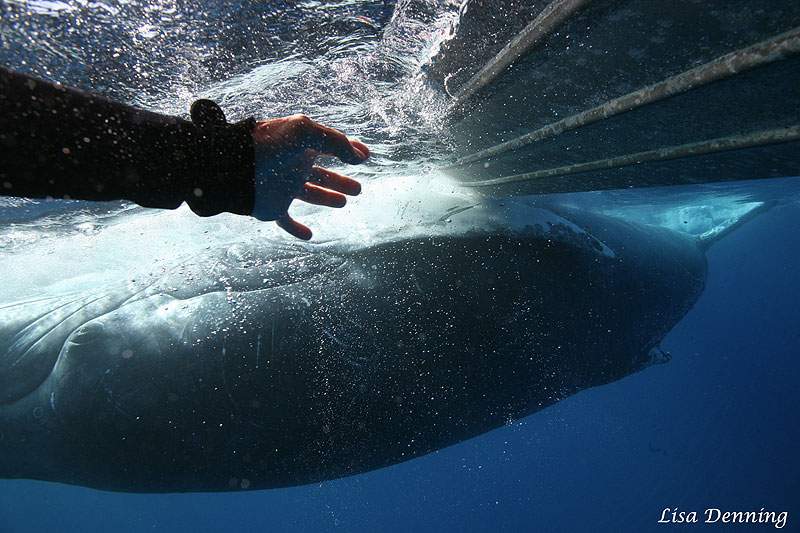 The whale then headed straight for me, a distance of 3 feet where I clung to the rope with Lisa behind me on the same rope. Time stood still. Everything occurring in slow motion. He was partially on the surface with his giant body submerged. He was like a boat himself, a boat that was about to check me out, up close and personal. I released one hand from the rope and prepared to go wherever he would push me. At the last second he lowered his head, still remaining in eye contact with Lisa and me, and dipped just barely in front of us and beneath us as we pulled our legs up into a crouch position so as not to accidentally touch him.

We could hear our captain on the boat calling our sister zodiac and saying "This is unbelievable! Amazing! Come over to see it. Where is your boat now? Come right away!"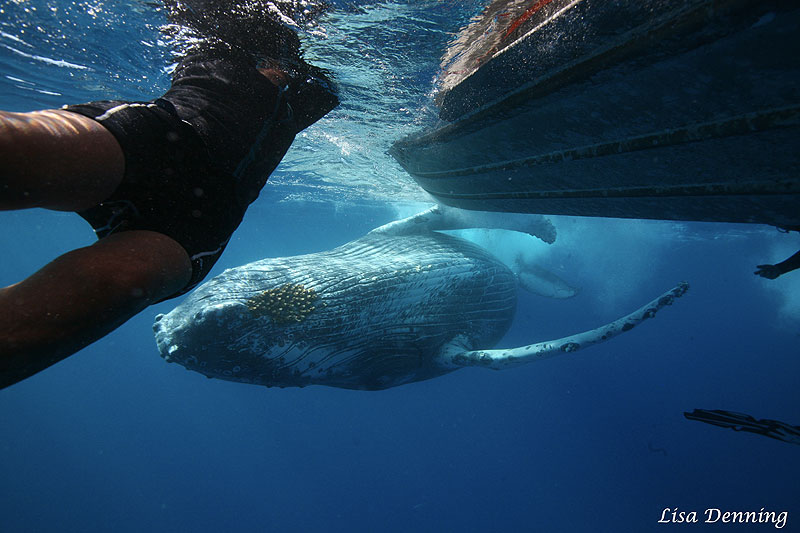 Joan Ocean with the whale, Freckles.

This inquisitive whale, named Freckles, made countless turns around our boat, circling to see everyone, looking deeply into our eyes and demonstrating a great curiosity.

Joan Ocean with the zodiac and whale

Our other tender was happy to come and join us. We had been enjoying the company of this whale for an hour. We were reluctant to leave him, but we boarded our zodiac to let the other group, our friends, have time with this playful whale, honoring the protocol stating that only one group of people at a time can be in the water with any whale. We spoke to the people on the other boat recommending they hold on to their zodiac for the best encounter, but the guys with their camera equipment, were impatient and began swimming after the whale with high hopes and great enthusiasm and so the whale decided to mimic their behavior and began racing along too. Soon he had left them far behind.

Somehow, amid all the foam and bubbles from this curious and persistent whale, Lisa was able to get film footage of this encounter. It is fascinating to watch. Only a wide-angle lens can photograph a whale that is merely inches away. As you can imagine we have dozens of photos of this encounter with this remarkable whale. Below are a few clips from Lisa's wonderful DVD of the trip.
________________________________________________
Two Whales who brought us into their circle of Love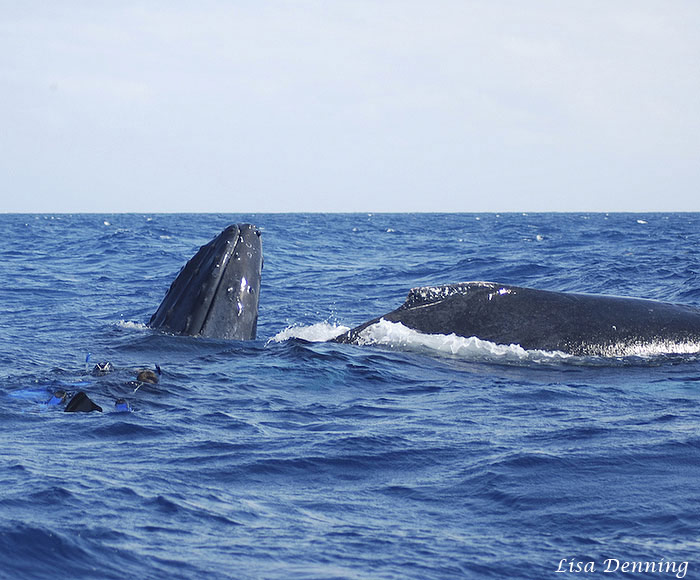 In this photo we are all looking down because there is another whale underneath us.





Two adult whales choose to swim with us, floating under us and around us, even breaching in the middle of all of us. I felt so much deep appreciation for this special human-whale encounter.


Our group of swimmers have so much love and trust for these whales, that when these 70,000 pound whales swam directly toward them, they confidently remained in place, floating on the surface, watching the slowly and purposefully approaching whales; aware of their love and friendship.

They did not panic or scramble to move; but merely pulled their legs up and steadfastly watched as the whale then dipped down beneath their bodies with little room to spare, moving slowly, carefully underneath us until finally coming up again behind us. The whales thought we were so great, so loving, and so fearless that they did this over and over! Sometimes you cannot help but think that these Humpbacks have an endearing sense of humor.
Here they come again!






One of the whales I named "Splash" because of his splash-paint marking on his right pectoral fin. He brushed closely next to me. I could not move away. His left eye looked deeply into mine as he stopped and performed a Spy Hop directly in front of me. Feeling like a whale myself at that moment, I also stood upright in the water and poked my head above the surface. We (the whale & I) both had an above water look at nearby Captain John in our dinghy, before we slid vertically back underwater again.




Splash had his brilliant white pec fins extended out from his sides, giving me a whale hug. I immediately stretched my little arms out from my sides and replicated his behavior. Looking straight ahead as he "stood" vertically in front of me all I could see was his ventral throat grooves or expandable pleats that extend from the throat to below the flippers. These are folds of skin and blubber that enlarge the capacity of the mouth during feeding. There can be any number of them from 25 to 100 pleats. I could see about 30 pleats on this magnificent whale.
I will never forget that image nor his love as he carefully moved to the left of me, while maintaining eye contact.


That night I had a very vivid dream that I was in the ocean and the whale was there with me standing upright and I had a soft white cloth that I was using to carefully clean his throat grooves, making sure there were no particles of food stuck between his flexible, expansive pleats! Perhaps a reminder that sometimes the whales need our help; a symbolic reminder that we humans are the Caretakers of the whales and the oceans.


On our last day in the ocean, as we prepared to motor away, the two whales ended our wonderful time in the water with them, by waving goodbye with twelve perfect, synchronistic tail lobs. The echoing sounds as their cupped flukes hit the water resounded through our bodies and touched our hearts.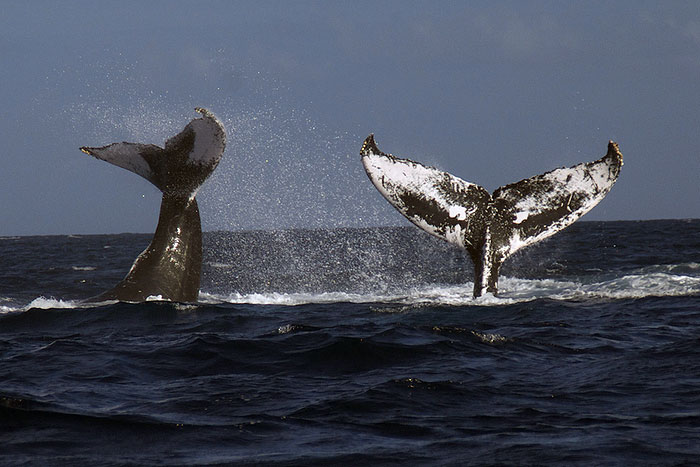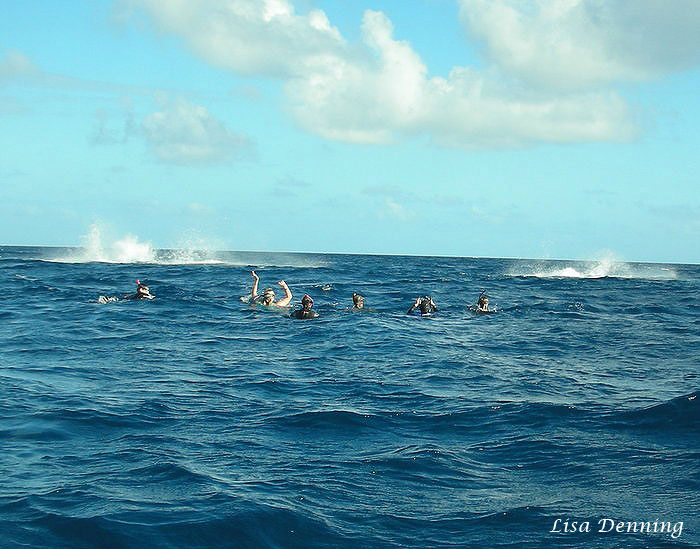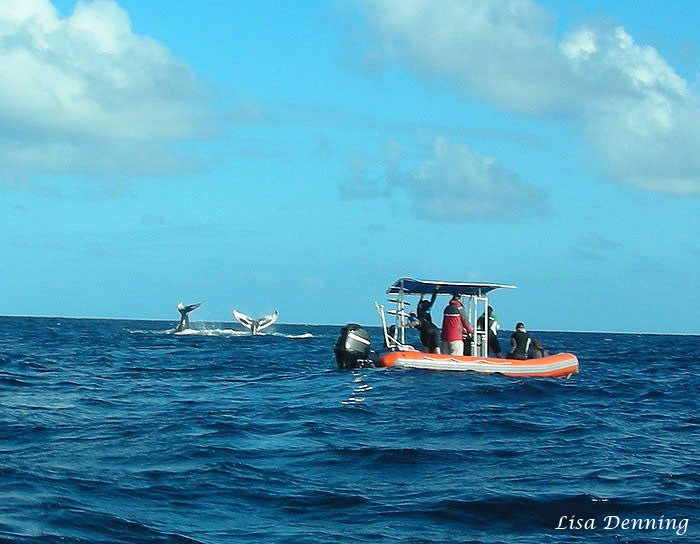 If you feel called to learn more about whales and experience their unconditional Love for humanity,
We will be migrating with The Great Ones back to this location in February, 2014.  THANK YOU.
Photos are the copyrighted property of Ocean Eyes Photography.
If you would like to work with this photographer or purchase some of her photos, please visit:  www.oceaneyesphotography.com