SECURED ONLINE SHOPPING WITH PayPAL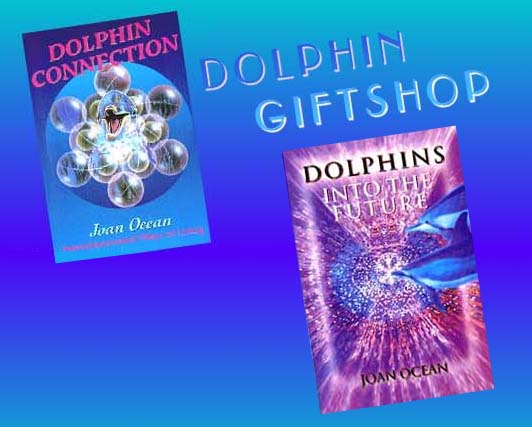 SECURED ONLINE STOREFRONT WITH PAYPAL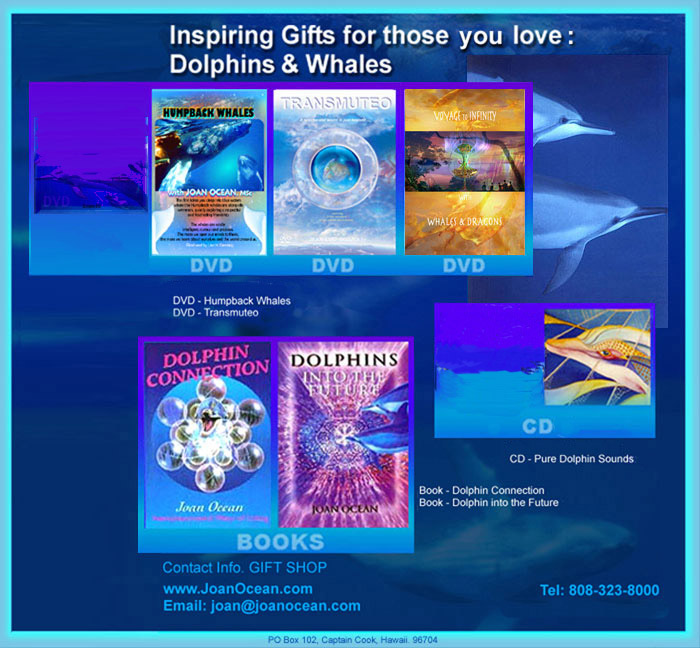 To Order Direct: please call 808-323-8000 or email; joan@joanocean.com





JOAN'S BOOKS
DOLPHIN CONNECTION: INTERDIMENSIONAL WAYS OF LIVING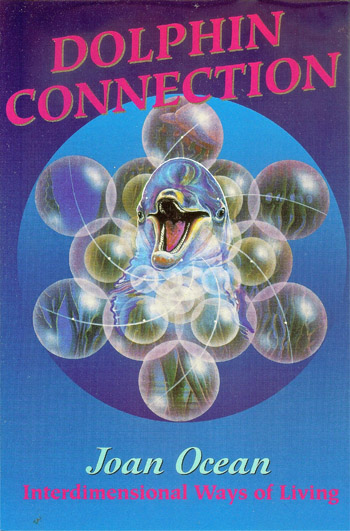 This heartwarming book is the story of Joan Ocean's first meeting with the whales and dolphins in 1984, and her intimate friendships with cetaceans, as she "…creates a field of innocence where the dolphin is the teacher." Swimming in the ocean, she experiences a human-dolphin communication that releases expansive, multi-sensory knowledge in the entire body and its thoughtforms. With the simplicity and elegance of the dolphins, she is linked to the Infinite wisdom of Love. The book also documents Joan's personal journey as she begins to understand the profound messages of the dolphins and whales. The book includes 19 black and white photos and artwork by famous visionary artist, Jean-Luc Bozzoli.

144 pages perfect bound, soft cover, published 1989 by Spiral / Dolphin Connection

Cost: $10, plus shipping [ISBN: 0-949679-10-0] or AMAZON.COM ORDER
This is the continuing story of a relationship that Joan has developed with a pod of 200 Hawaiian Spinner dolphins. Living with them for ten years and experiencing their births, their games, their mating, healing and communicative sounds, Joan learns the secrets of entering dolphin consciousness and traversing multiple realms. With the dolphins and whales as teachers, Joan enters our future and brings back wisdom for the present. This book contains photographs and art by Jean-Luc Bozzoli.

207 pages, 51 black and white illustrations, perfect bound, soft cover, published 1997 by Dolphin Connection, Hawaii

Cost: $10.00, plus shipping. [ISBN: 0-9625058-8-9] or AMAZON.COM ORDER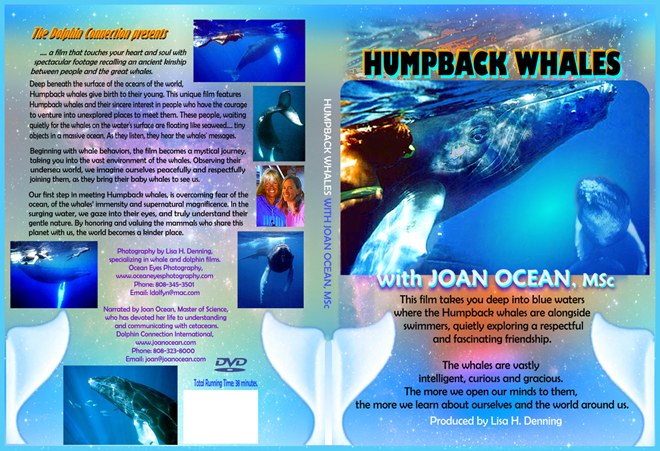 .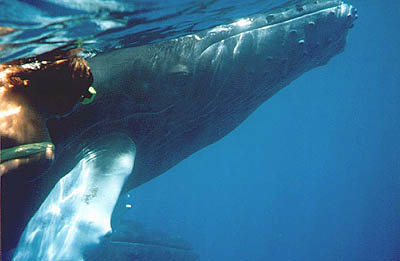 DVD: HUMPBACK WHALES with JOAN OCEAN, MSc
Click here for a QuickTime Clip

Joan's new DVD shows her with the Humpback whales in the Carribean and includes images of the whales swimming with people, breaching, spyhopping and nurturing their babies. This meditative film produced and directed by Lisa H. Denning, features Joan's voice with music soundtrack.

"In the past two decades of meeting whales, I have noticed they are initiating contact with people in boats and in the ocean more and more frequently.

What is their message?
What would they like us to know?"

~ Joan Ocean MSc ~

38 minutes. Cost: US$15.00, plus shipping.
To Order Direct: please call 808-323-8000 or email; joan@joanocean.com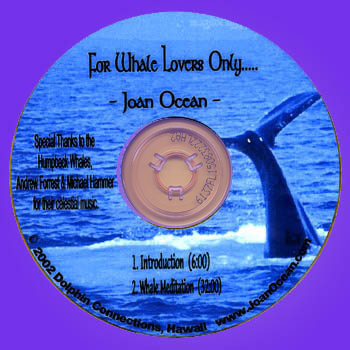 CD: FOR WHALE LOVERS ONLY
Joan's new CD includes an introduction to the whales and a guided meditation with whales breathing on the surface and singing in the ocean. A special thanks to the Humpback Whales, Andrew Forrest & Michael Hammer for their celestial music. 38 minute mediation. Cost: $10.00, plus shipping.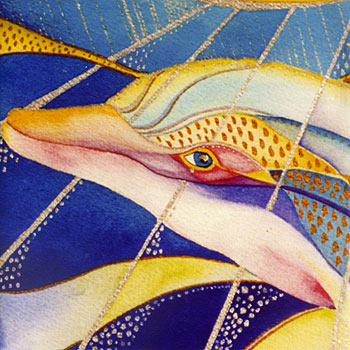 CELEBRATION OF
THE HAWAIIAN SPINNER DOLPHIN
This CD contains only natural sounds of the Spinner dolphins and Humpback whales recorded in Kealakekua Bay. No musical instruments. 60 minutes, CD, Cost $15 + shipping





MONROE INSTITUTE HEMI-SYNCH CDs THAT JOAN USES
DREAMCATCHER

Dreams are gateways to the soul. Drift gently into the mystical dreamstate with soothing ambient music, calming water sounds and Hemi-Sync®. Don Peyote and Naasko bring their shamanic influence to bear in this versatile composition. Dreamcatcher supports deep, restorative sleep when used in continuous play. It may also be used for massage therapy, subtle energy healing work or for powerful meditations in the borderland sleep state. Instruments featured: harmonic chords, drones, synthesizer, and field recordings of water sounds and whale calls.
55 minutes, CD, Cost: $20 + shipping
MYSTIC REALMS

Hemi-Sync® and the mesmerizing ambient music of Brad Allen beckon you into the transcendent stillness within. Inner guidance and a higher perspective await you as you experience the subtle nuances and ethereal sounds of Mystic Realms.
43 minutes, CD, Cost: $20 + shipping
INTO THE DEEP

Many believe the ocean to be the origin of physical life. Inspired by this belief, Matthew Sigmon and Julie Anderson explore this silent world through the delicately textured music of Into the Deep for expanding awareness through musical imagery; for deeper, more profound relaxation; or simply for musical enjoyment. 29 minutes, CD, Cost: $20 + shipping




WAVES OF LOVE

Another Monroe Institute Hemi-sync© recording inspired by the dolphins and composed from the heart to create a space of inner tranquility and deep reflection, reminding you that your true essence is LOVE.

55 minutes, CD, Cost: $20 + shipping
---
To Order Direct: please call 808-323-8000 or email; joan@joanocean.com
---

THE FILMS OF JEAN-LUC BOZZOLI

~~~~~~~~~~~~~~~~~~~~~~~~~~~~~~~~~~~~~~~

DVD: VOYAGE to INFINITY with WHALES & DRAGONS by Jean-Luc Bozzoli


CLICK IMAGE TO GO TO ORDER PAGE

DVD: TRANSMUTEO by Jean-Luc Bozzoli

You can order these on Jean-Luc's website:

---
---

Please enjoy, LISA DENNING'S
OCEANEYESPHOTOGRAPHY.COM SITE

---
© 1989-2013 by Dolphin Connection THANK YOU FOR YOUR SUPPORT
[ Home ] [ About Joan ] [ Album ] [ Dolphins & Whales with Us ] [ Human-Dolphin Village ] [ Our Children ] [ Seminars ]