E. T. U p d a t e s
___________________

WORLD CONTACT DAY - December 1, 2019

Join us world-wide to welcome our friendly star neighbors, living in other solar systems, on other planets and dimensions ...
to communicate and visit with us. This gathering is being CALLED by the benevolent, kindred people of Andromeda, Arcturus and Sirius B. Thanks for connecting and caring, Joan Ocean & Jean-Luc Bozzoli.
Watch here for more information. Mark your calendar…..

_________________




INSPIRATIONAL WORDS OF WISDOM
FROM INSIDERS
Fascinating Facts and Significant Events of
Enlightenment, Hope and Spiritual Support

Dear Dolphin Connection friends,

I am glad you are looking at this website. This page is new.
It is meant to be a source of inspiration and spiritual support during 2016 and beyond.

We have a good number of interstellar and cosmic friends and civilizations in Space who have been assisting us in many unseen and mostly un-noticed actions for decades...read more here

_________________________________

Please enjoy this article on Joan from Mary Joyce's website: www.skyshipsovercashiers.com

_________________________________

Here's a new article aboutory of the WingMakers:

TIME CAPSULE CAVERNS IN NEW MEXICO

Contact with wise Star Friends

SUBJECT: TIME TRAVEL - 5/11/13

___________________

___________________
---
E t .F r i e n d s S E M I N A R S

VISIT JOAN IN HAWAII

---

Lilou's interview with Joan after the

2011 Dolphin Symposium

CLICK HERE FOR PHOTOS FROM THE 2011 DOLPHINS & TIME TRAVEL SYMPOSIUM

---

Joan at the cseti conference in arizona, 2010


click for photos page

"contact to transformation"

---


An interdimensional revelation from the Dolphins
by Joan Ocean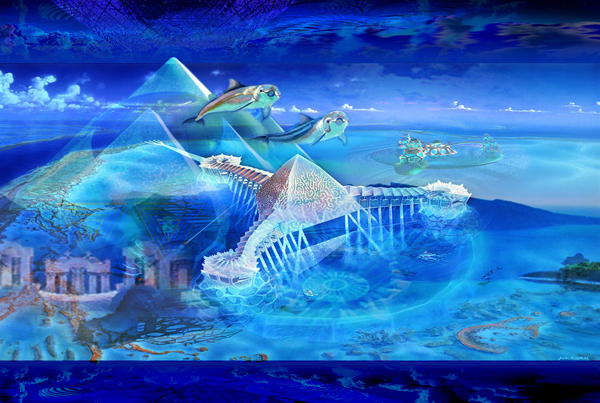 paintings by http://eyewithin.com/
They were communicating to me and I began to emotionally connect with their tonal and vibrational language. As the messages came in, I knew I was meant to share their story with the world. It was a great pleasure for me to relate and record their history and their knowledge of this planet.
read more...
---
PLASMA SHIPS IN THE OCEAN
---
ARCHIVED BROADCASTS FROM DOLPHINVILLE RADIO -- CLICK HERE FOR DETAILS
---



DOLPHINS & E.T. CIVILIZATIONS CONFERENCE, KONA, HAWAII 2005

---


There are many advanced civilizations residing in places other than terra firma, Earth. For the past seventy years our present Earthbound civilization has documented UFOs, Extra-terrestrials, flying saucers, advanced-technology aircraft and underwater submarine vehicles that greatly surpass our knowledge of science, mathematics, physics, design and construction.


These other societies are living on planets and moons in the Milky Way Galaxy and beyond, as well as in other dimensions. Their civilizations are thousands and even hundreds of thousands of years older than that of present-day Earth. They are living in densities more refined than the frequencies we experience on Earth, and they are able to travel and materialize here, without detection by most Earth humans. They do not live within a linear time frame as we do on Earth. They live in a reality where higher frequencies create environments without time and space constraints and therefore visiting other places in the Universe is easily accomplished.



Their spiritual alignment with the Creator-Source is more evolved than that of today's Earth population. They have developed soft and hard technologies which include: free energy; organic light vehicles; frequency-propulsion systems; interplanetary and interdimensional communication and travel; freedom from time and space constraints; and beautiful, pristine environments. In some instances, ETs have evolved to states of perfect health; advanced mental capabilities; telepathy; thought creations; molecular transformation; virtual immortality; and an active and loving relationship with the Great Order of Universal Geometries.

For many years the presence of these ET Friends was ignored or denied by people who focus on Earthbound concerns and occupations. However, their presence in our skies and on our minds is so prevalent, that they can no longer be dismissed.
They have been in our air and sea space for many decades having achieved proficiency at interstellar travel long ago. Their craft are sighted, reported, catalogued, recorded, filmed and discussed among the highest officials of our governments, military organizations and well established corporate institutions. People all around the world are reporting Extraterrestrial (ET) and UFO sightings and contacts.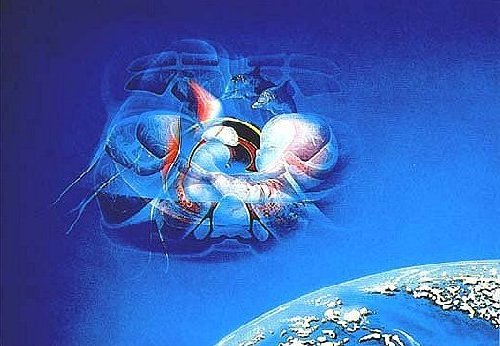 It is a very exciting time on earth as we move into a future that includes interplanetary-intercultural education and inspiring co-operative projects for the Good of all Life in the Cosmos. In a spirit of cooperation, we are asking, "What can we do to assist in this interplanetary and interdimensional exchange of friendship and knowledge?"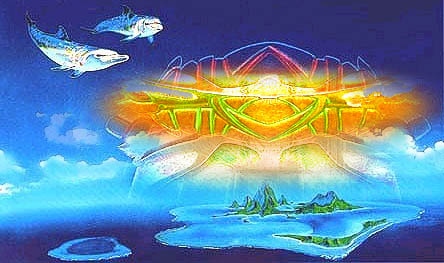 The dolphins and whales live in our oceans with full awareness of the vibrational proximity of other civilizations. The dolphins emit a tonal and vibrational holographic 'language' that allows on-going communication with other species, including the human race. We are accessing this information now as we spend more time with the cetacean societies living here. They are excellent teachers - teaching by example and through cellular communication, directly to the cells of our minds and bodies. We are being invited to enter non-local reality or Universal Mind where the ETs and cetaceans reside. This is our common ground, our mutual wavelength.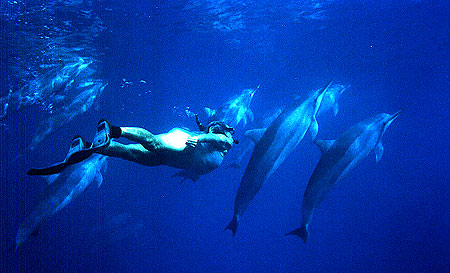 On this web site, it is my pleasure to share with you many of my personal contacts and interactions with our ET Friends. Always remember that they do not necessarily communicate in our traditional, familiar three-dimensional ways. They are contacting us on many levels, similar to our communications from dolphins and whales, tempting us to transform our limiting beliefs, open our hearts to love and gratitude and join them in expanded states of awareness. They are willing to meet you too and to show you their methods of materializing, communicating, 'traveling', creating, healing, co-operating, sharing and playing. We anticipate great adventures as we open to this wonderful and inspiring friendship with our multiverse friends.

With love and joy,

~ Joan Ocean
Click here to have a look at Joan's Dolphin Connection website.
---

PHOTO ALBUMS

CLICK HERE FOR PHOTOS FROM THE 2011 DOLPHINS & TIME TRAVEL SYMPOSIUM

PHOTOS FROM JUNE 2005 CONTACT SEMINAR

CONTACT CONFERENCE HOME PAGE

Artwork by Jean-Luc Bozzoli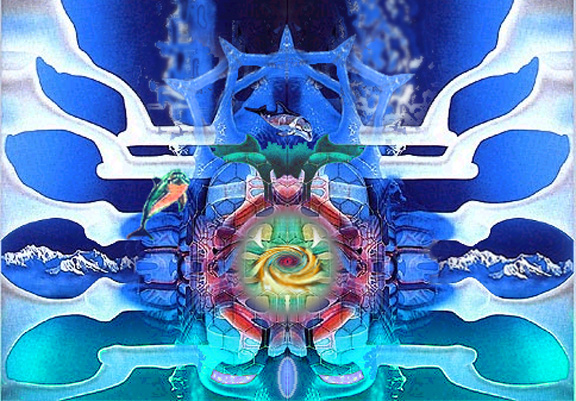 TOP OF PAGE
---
©, Joan Ocean. All rights reserved.

(please include a subject line or mail will be deleted as spam)
CONCEPT: Joan Ocean
ARTWORK: Jean-Luc Bozzoli
WEBWORKS: dwWEBdesign
LAST UPDATE: 11.11.15